Introducing Geo, a Timeless Theme for Bootstrap
Here at Divshot we're committed to moving web development forward by embracing new technology and enabling best practices in rich, visual tools. It is also important, however, to bring forward those things from the past which prove to have timeless value. Today we're proud to announce Geo for Bootstrap, a theme that draws inspiration from the timeless design elements throughout web development's history.
The new theme is open source and available on GitHub and is also immediately available for use within Divshot.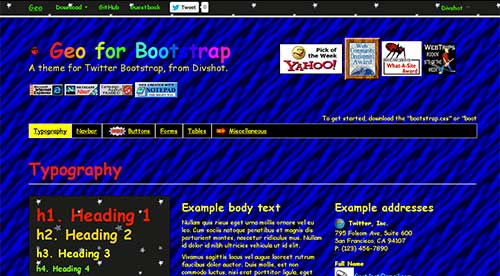 Geo for Bootstrap features many unique elements, including:
A stunning, high-contrast color palette that will immediately draw your users into the interface
Playful typography designed by luminary Vincent Connare
Call attention to your content with the brand-new blink tag
To use the new theme from within Divshot, simply create a new Bootstrap page and select the "Geo" theme from the Page Options menu in the sidebar.

We hope you find new and innovative ways to utilize this new theme in your own projects. In fact, we'd love to see what you make, so feel free to post links in the comments!